The annual 2018 Global Gaming Expo wrapped up this past October. The event was filled to the brim with exciting advancements in gaming technology and hopeful forecasts for the industry's future. New machines, software backends, marketing strategies and integration plans were unveiled en masse. Here are some of the reveals that we found to be the most interesting.
Industry-Wide Integration with Big Data
"Big Data" – massive data sets that can be analyzed to help describe and predict human behavior – has made businesses of all kinds significantly more profitable. The gaming industry stands to benefit from Big Data as well, but the industry has been slower than most to embrace the widespread use of software-driven sales initiatives. If the 2018 Global Gaming Expo panel by Kiran Brahmandam, CEO of Gaming Analytics, is any indication, this is about to change—and fast.

For marketers in the casino and gaming industry as well as us in the signage industry, this is an enormously positive development. Big Data and intensive analytics allow us to gauge what advertisements and designs are effective—and arguably more importantly, which are not—at a significantly faster rate. This capacity, in turn, translates to more beneficial industry-wide trends being optimized at a quicker pace. A win-win all around, in our opinion.

Sports Betting Shake-Ups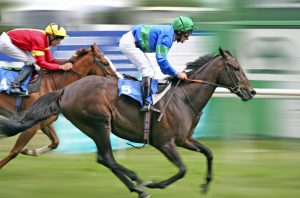 Anyone with knowledge of the gaming industry will tell you that sports betting has been in dire need of restructuring for a long time. It's a notoriously wild beast, with an immense amount of data and some staggeringly large payouts being doled out on a daily basis. For a long time it seemed as though this sector of gaming was beyond reform. To our own relief as well as everyone with a stake in the business, that presumption was shown to be false this past October.

The answer to the now decades-old problem will be of no surprise to anyone who keeps up with industry trends: intense automation. This is a trend that goes far beyond the gaming industry, but its usefulness can't be understated. Automation allows for constantly changing figures and in-game bets to be recorded and altered in mere seconds. While this doesn't have as direct an effect on marketing and branding as some other entries, we're excited for the expanded profit margins this development has the potential to yield.

Video Games Take Center Stage
In the past decade, video games have become the single most profitable form of media in the world. This unprecedented development has investors flocking to the industry while other industries are left to ponder how they can replicate this success. The traditional casino gaming industry happens to be the originator of video games' enormous profits.
As exhibited at G2E, software-based games have begun employing time-tested gaming industry tricks to encourage players to put much more than their initial investment into their favorite games. In effect, this has translated to many popular mobile games functioning as software-based slot machines that can be played from anywhere. Being as natural a fit as it is, our industry has begun to follow suit.

What does this mean for marketers? Video games have an impressively strong understanding of how brand recognition can drive sales and further consumer investment. One panel from the 2018 Global Gaming Expo made our role in this development very clear. Signage and digital print companies stand to drive profits massively by creating designs and iconography that appeal to casino-goers' likes, interests and nostalgic sensibilities. This effort means doubling-down on brand deals with recognizable franchises. We here at PIXUS Digital Printing have already begun mobilizing on this tantalizing development.

Our Honorable Mentions
The above is what we feel to be the most significant concerning their impact on marketing and branding in the casino industry, but they aren't the only exciting developments. Here are some of our other favorites.

– Collaborations with social influencers being used to drive customer interactions
– Expansion of Esports into traditional casino-based gaming
– More tools for engaging with customers on a resort-wide basis
– Developments in data strategies for the digital industry
Our Take On the Industry Moving Forward
The 2018 Global Gaming Expo has us immensely excited for the future of the interplay between our industries. That said, our commitment to our clients' core values remains the same as it has always been. As enticing as some of these new technological developments and prospects are, they will always be secondary to our drive to create interactive and innovative experiences for our customers and their consumers. For more information about what Pixus can do for your industry please do not hesitate to contact us for more information. In the meantime, we look forward to what 2019 will hold for Pixus and our customers!