Local 256th Infantry Brigade Combat Team Welcomes New Commander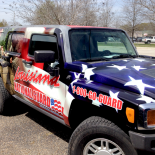 Headquartered in Lafayette, La the 256th Brigade Combat Team consist of the 199th Brigade Support Battalion, 2nd Battalion of the 108th Cavalry Regiment, 2nd Squadron of the 156th Infantry Regiment, 3rd Battalion of the 156th Infantry Regiment, 256th Brigade Special Troops Battalion, 1st Battalion of the 141st Artillery Regiment, and the Headquarters.
The Louisiana National Guard's 2nd Battalion, 156th Infantry Regiment, welcomed its new commander, Lt. Col. William E. Haygood, in an official Change of Command ceremony at Erath High School, April 6, 2014. Haygood was commissioned into the Louisiana Army National Guard as an Infantry lieutenant in August 1991 and holds a Bachelor of Arts degree in General Studies.
Haygood was mobilized with the 205th Engineer Battalion in June 2003 in support of Operation Enduring Freedom. He deployed to Kandahar, Afghanistan, and served as the operations officer for the 205th's southern task force from August 2003 until May 2004. Haygood also served in duration overseas deployment staff positions in Belize in 1996 and 1997 and in Haiti in 2010. Haygood is currently the manager of the State of Louisiana Office of Community Development Hazard Mitigation Grant Program.
Haygood, looking forward to his new role as commander said, "2nd Battalion will foster an environment of mentorship and accountability where each Soldier will be given the opportunity to excel."
Military images highlight this Louisiana National Guard vehicle shown in photos to the right and above of the newly adhesive vinyl wrap by Pixus Digital Printing. The Louisiana National Guard's fresh and modern look promises to garner attention wherever it may go.
Twelve year member and retired Captain of the Louisiana National Guard, Pixus Digital Printing's owner Todd Landry says,
"It gives me great pride to be able to see these vehicles under our care."
---
Article courtesy of the Louisiana National Guard.
Pixus is solely responsible for content, views and opinions shared within this article.
Send comments, inquiries and suggestions to Mike Latiolais at [email protected]