Casino Solutions
Boost business and drive traffic! Casino solutions create an impact!
Digital, high-resolution and large format casino signs are more affordable, increases traffic and communicates directional messages and events. Look no further for the finest in casino signage and products. Pixus is where you'll find the lowest prices with the quickest turnaround. Guaranteed!
Casino products and services offered.
Click on the image links for more exciting product samples.
Adhesive Graphics – Achieve eye catching and jaw dropping results during your next promotion using adhesive graphics. Businesses have come to expect brilliant colors and photo realistic graphics from Pixus where finished products vary from bold and beautiful storefront window graphics, sleek looking elevator doors and kiosks for malls and sporting events. Pixus also offers adhesive graphics for carpet and floors, transportation shuttles, wall murals, applications for concrete and much more.
---
Backlit Displays
 – 
Realistic, high definition backlits are sure to impress customers and showcase your next casino promotion. Backlits work extraordinarily well in low-light areas, including our full line of slim profile LED, snap frame light boxes in assorted styles and sizes.
---
Photographic Vinyl Banners
 – 
Our goal at Pixus is to create excitement for your customers before they enter the front doors. Highly durable and colorful, eye-catching vinyl banners are perfect for hanging outdoor pole banners, directing traffic on your property. Over-sized billboard banners on parking garages will leave them speechless!
---
Custom Projects – Have an idea you'd like to bring to life? For over 20 years, we've specialized in designing affordable, unique and one-of-a-kind projects. If you can imagine it, we can make it a reality.
---
Die-Cut Standees – Towing an ocean liner onto your parking lot for the big cruise giveaway seems a bit unlikely, but a life-like, colorful and exciting over-sized, die-cut, cruise ship may be just the trick. Pixus can transform your ideas into vehicles, boats, ATVs, well known personalities and more. A must for casino floors, liven up your next event with die-cut standees from Pixus.
---
Fabric Banners – Congratulate the next big winner and make them feel like a rock star posing for photos on the red carpet in front of a themed hanging fabric banner. Order fabric banners made of elegant step and repeat fabric banners of any size and don't forget the display stand to show it off.
---
Custom Gameboards – Our gameboards are digital cut, giving added dimension and personality using materials like Foamcore, Gatorboard, MDO, Sintra and more. Pixus is recognized nationally for adding an extra "WOW" factor to gameboards. Using chasing LED lights to create an eye-catching and colorful impact, adds an absolutely exciting feel to properties and promotions!
---
Posters – Time tested and affordable poster solutions are an incredible and easy way to build excitement for your next concert, giveaway or event dining. We carry a full line of poster floor stands and edge snap poster frames in a wide variety of colors to match your existing décor.
---
Slot Toppers – Slot toppers are an easy solution to make your HOT new slots or slot tournament easy to find. The Pixus CNC digital die-cutting capabilities provide unique opportunities to be creative with custom shapes and figures sure to draw attention and drive traffic. Overall, slot toppers provide attention-grabbing reminders of upcoming concerts, dining venues and promotions.
---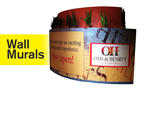 If a picture is worth a thousand words, your wall murals should be worth a million! Wall murals bring hallways to life with images such as the Vegas skyline or white sandy beaches with rolling blue waters of the Caribbean. Go on and be absolutely different with wall murals, setting the tone for upcoming events like poker tournaments or a concert series.
Didn't see what you are looking for? Contact Us to speak to a sales representative for more information about products and services.