Museum Solutions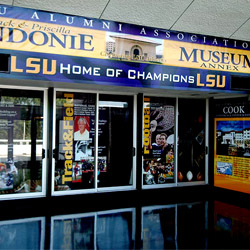 Museum Solutions: Banners, Displays, Graphics and Posters
Are your museum exhibits lacking the attendance you were expecting? If so, there may be a very good chance it's the result of the absence of attention catching signage.
Pixus Printing Solutions
Pixus uses the latest advancements in digital printing technology to create colorful, high resolution graphics for your posters, signs and banners. For over 20 years, museums from more than a dozen states have placed their trust in Pixus, including long-time patron, the Library of Congress in Washington, DC.
Create museum quality exhibits for universities, cities, states and federal projects.
Museum quality increases community awareness.
Museum quality provides valuable information to patrons.
Museum quality captures the "feel" and "time" period of exhibits.
Our state-of-the-art digital flatbed printers and CNC MultiCam finishing systems are used to print and cut high resolution posters, signs and banners. UV flatbed printers provide accurate and realistic looking prints on almost any substrate including metal, wood, plastic, Gatorboard® and acrylic. Other Pixus specialties include: vinyl pole banners for street advertising and satin fabric banners for the elegant interior look. The CNC MultiCam die-cut system puts the finishing touches on projects with laser-sharp cuts, for most shapes and sizes. Designers and advertising professionals have trusted Pixus boasting over 120 years of combined knowledge. Ask about our fast turnaround time. Guaranteed!
Choosing the proper material may be your hardest choice!