Slot Toppers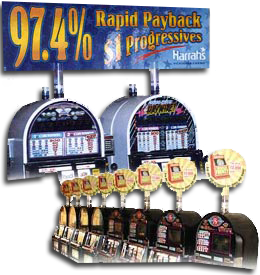 Slot Toppers helping to stay on top of the game.
Slot toppers and slots go together like kings and queens. Pixus has been producing slot toppers for the gaming industry for more than 12 years. Flashing lights and bright colors on slot machines have always attracted the curiosity of casinos patrons. What makes a perfect slot topper is exceptional visibility from a distance, and a large enough space to display current promotions. Choosing a design is easier than ever. Select from our slot paddle archive or have our design team create one especially for your property, in any shape, size or substrate.
Pixus is your one stop for all gameboards, vinyl adhesive graphics, posters, standees, fabric banners, wall murals and custom signage. Our designers offer you complete customization with traditional and innovative substrates and visual impacts with strong and colorful images for every event. Unbeatable prices and delivered in record time.
The New and Exciting "Roto Toppers" from Pixus Digital Printing!