Tradeshow Exhibits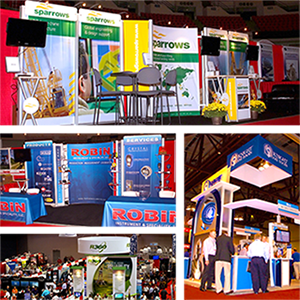 Tradeshow Exhibits Provide Color for the Heart and Soul
Searching for incredible ways to boost your trade show presense? We create graphics that convey such a presense using colorful, bold and eye-catching graphics.
Effectively portray your company's message with quality high resolution graphics from Pixus. Our graphic design team is equipped with the latest technology that will deliver the most professional look with the highest quality products available.
Consider heavier weighted fabrics for longer lasting tradeshow exhibits and graphics. Ask for non-glare and scratch resistant finishes be applied to all your tradeshow graphics to insure the longevity of your product.
We make transporting tradeshow exhibits easy.
We eliminate the hassle of hauling cumbersome containers by using detailed graphic banners to display your products. Close attention is given to container details so shipping exhibits to shows are professional and portable.
Fabric mural panels is an efective method used to feature trade show displays. Stand out from the competition with custom tradeshow displays and graphics from Pixus. Nimlok, ABEX, and Skyline are some of the many companies who count on us for all their tradeshow graphics.
What can Pixus do for your business with Trade Show graphics?
Effectively market your message
Provide detailed and life-like photographs of any size
Maximize exhibit effectiveness
Showcase customer service
Ship International
Utilize over twelve years of knowledge, experience and manufacturing
Attract attention with high-resolution colored banners and panels
Position your business with a leader in trade show graphics in Louisiana, Arkansas and Mississippi
On-site designers can customized your exhibit
Make ordering trade show graphics quick and easy
Exclusive partner to Nimlok-Louisiana; the experts in design and manufacturing of trade show exhibits