Flatbed Printing & CNC Router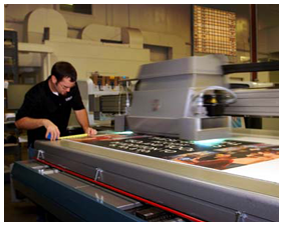 Flatbed Printing & CNC Routing – Advanced Digital Technology
No longer constrained by out dated technology, direct to surface UV curing flatbed printers produce unmatched precisioned details and longer lasting full-color images on most surfaces. The new Swiss Q Nyala printing system offers versatile direct to surface flatbed printing with innovative options for promotion and display.
Our flatbed printers use innovative UV curing systems and UV inks that dry instantly and considerably reduce finishing time and cost. UV inks used for outdoors printing are incredibly durable and can last up to 3 years and more with lamination to protect surfaces from scratches or fading. Technology allows trade show graphics to be printed directly on to substrates without delamination issues. When combining our revolutionary Swiss Q Nyala flatbed printing technology and established computer precision routing systems, we are able to custom cut many complex shapes. Your possibilities are endless for point-of-purchase and promotional displays.
Multi-Cam Digital finishing systems have powerful routing and knife cutting capabilities and fast wide-format sheet fed cutting platforms. We can fulfill almost any need including custom carpet squares, wallpapers, multi-dimensional directional signs or life size standees and make your promotions their most successful yet! Custom projects are only limited by your imagination.